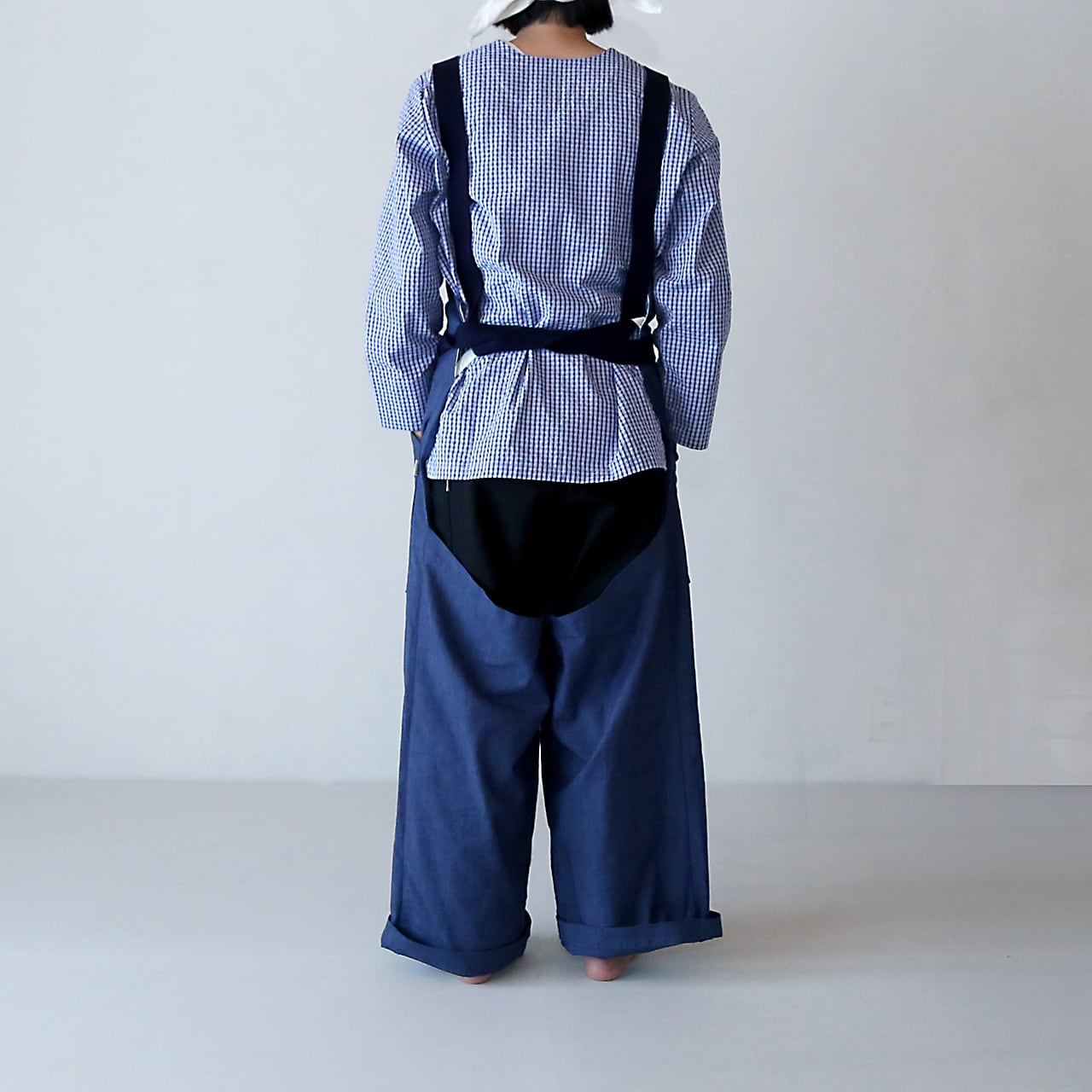 [再生産なし]

・ズボン式作業前掛け(ずぼんしきまえかけ)

全身が汚れるがつなぎを着るまでもないという作業に最適な、動きやすい一体型パンツ式前掛けです。
草刈りや膝を着く作業、陶芸、珈琲焙煎など幅広くお使い頂けます。
胸当て部分に物が落ちにくい大きな深型ポケットを付けました。
こまめに洗濯出来、普段着に合わせやすいような生地を選んでいます。


These slip-on overalls are perfect when a quick change is needed to avoid dirt. They can be worn for a wide variety of work such as weeding, pottery or coffee-bean roasting. The chest part has a large, deep pocket. This workwear is made of textile easy to wash and to coordinate as a daily clothes.

一件式工作前掛,適合全身易弄髒的工作時使用。
除草、需跪著的工作、陶藝、烘咖啡,使用場合非常廣。
前胸部分有一個深且大的口袋,可防止物品掉落。
選擇了跟一般服裝能輕鬆搭配且可經常洗滌的質料。

ーーーーーーーーーーーーーーー
※「半々」とは
作業着に最も適した綿50%ポリエステル50%生地のシリーズです。
私達は、丈夫ですぐ乾き、肌触りは綿地と遜色のない"半々"をお勧めして参ります。

・Series "Fifty-fifty"
"Fifty-Fifty" is a series of textile most suitable for work clothes, consisting of 50% of cotton and 50% of polyester. Durable and fast-dry, smooth as cotton. "Fifty-Fifty" is our next recommendation.

・所謂「半半」
50%的棉及50%的聚酯纖維,材質為最適合作為工作服的系列。
耐穿又速乾,觸感和純棉質地相比也毫不遜色的「半半」會是接下來主推的材質。

ーーーーーーーーーーーーーーー

Lot 0:2019.10

ラッピングオプションのお知らせ|https://shop.sagyo.jp/blog/2020/12/10/095710
*Earliest delivery date is 3/29(Wed) (may require more days depending on delivery address).
*Tax included.
*Additional shipping charges may apply, See detail..

About shipping fees
The shipping fee for this item varies by the shipping method. Customers can choose the shipping method at time of purchase.
佐川急便

日時指定がないご注文に関しては、発送業者をこちらで選択させて頂く場合があります。

Shipping Fees are the same all over country inside Japan ¥500
EMS light /〜1kg

Regional setting

Afghanistan

Bangladesh

Bhutan

Brunei

Cambodia

China

Guam

Hong Kong

India

Indonesia

Laos

Macao

Malaysia

Maldives

Marshall Islands

Micronesia, Federated States Of

Mongolia

Myanmar

Nepal

North Korea

Northern Mariana Islands

Pakistan

Palau

Philippines

Singapore

South Korea

Sri Lanka

Taiwan

Thailand

Timor Leste

Vietnam

Australia

Christmas Island

Cocos (Keeling) Islands

Cook Islands

Fiji

French Polynesia

Kiribati

Nauru

New Caledonia

New Zealand

Niue

Norfolk Island

Papua New Guinea

Pitcairn

Samoa

Solomon Islands

Tonga

Tuvalu

Vanuatu

Wallis and Futuna

American Samoa

Anguilla

Antigua and Barbuda

Aruba

Bahamas

Barbados

Belize

Bonaire, Sint Eustatius and Saba

Canada

Cayman Islands

Costa Rica

Cuba

Dominica

Dominican Republic

El Salvador

Grenada

Guadeloupe

Guatemala

Haiti

Honduras

Jamaica

Martinique

Mexico

Montserrat

Netherlands Antilles

Nicaragua

Panama

Puerto Rico

Saint Barthélemy

Saint Kitts and Nevis

Saint Lucia

Saint Martin

Saint Pierre and Miquelon

Saint Vincent and the Grenadines

Sint Maarten

Trinidad and Tobago

Turks and Caicos Islands

U.S. Virgin Islands

United States

Virgin Islands, British

Bahrain

Cyprus

Iran, Islamic Republic Of

Iraq

Israel

Jordan

Kuwait

Lebanon

Oman

Palestinian Territory, Occupied

Qatar

Saudi Arabia

Syria

Turkey

United Arab Emirates

Yemen

Aland Islands

Albania

Andorra

Armenia

Austria

Azerbaijan

Belarus

Belgium

Bosnia and Herzegovina

Bulgaria

Croatia

Czech Republic

Denmark

Estonia

Faroe Islands

Finland

France

Georgia

Germany

Gibraltar

Greece

Greenland

Guernsey

Holy See (Vatican City State)

Hungary

Iceland

Ireland

Isle of Man

Italy

Jersey

Kazakhstan

Kosovo

Kyrgyzstan

Latvia

Liechtenstein

Lithuania

Luxembourg

Malta

Moldova

Monaco

Montenegro

Netherlands

North Macedonia

Norway

Poland

Portugal

Romania

Russia

San Marino

Serbia

Slovakia

Slovenia

Spain

Svalbard and Jan Mayen

Sweden

Switzerland

Tajikistan

Turkmenistan

Ukraine

United Kingdom

Uzbekistan

Argentina

Bolivia

Brazil

Chile

Colombia

Curaçao

Ecuador

Falkland Islands (Malvinas)

French Guiana

Guyana

Paraguay

Peru

Suriname

Uruguay

Venezuela

Algeria

Angola

Ascension Island

Benin

Botswana

Burkina Faso

Burundi

Cameroon

Canary Islands

Cape Verde

Central African Republic

Ceuta and Melilla

Chad

Comoros

Congo

Congo, The Democratic Republic Of The

Côte d'Ivoire

Djibouti

Egypt

Equatorial Guinea

Eritrea

Eswatini

Ethiopia

Gabon

Gambia

Ghana

Guinea

Guinea Bissau

Kenya

Lesotho

Liberia

Libya

Madagascar

Malawi

Mali

Mauritania

Mauritius

Mayotte

Morocco

Mozambique

Namibia

Niger

Nigeria

Reunion

Rwanda

Sao Tome and Principe

Senegal

Seychelles

Sierra Leone

Somalia

South Africa

South Sudan

Sudan

Tanzania

Togo

Tristan da Cunha

Tunisia

Uganda

Western Sahara

Zambia

Zimbabwe

Bermuda

Bouvet Island

French Southern Territories

Heard Island and McDonald Islands

Indian Ocean Territory, British

Saint Helena

South Georgia and the South Sandwich Islands

Tokelau

United States Minor Outlying Islands