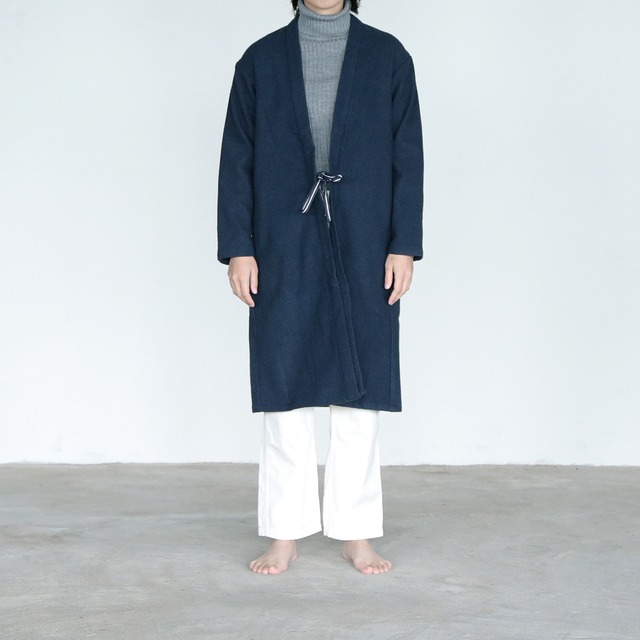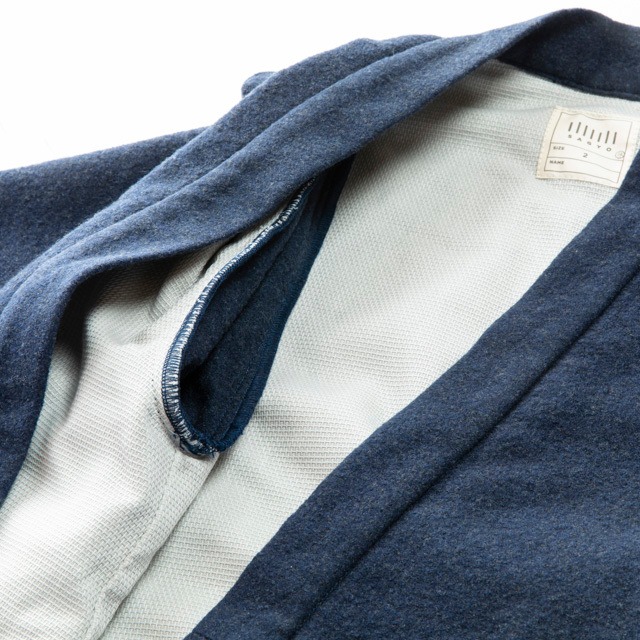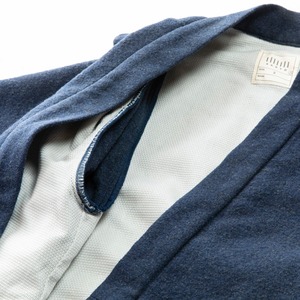 [再生産なし]

・裏付伊達羽織(うらつきだてばおり)

出店や配送など、お客様の前に出る際、作業着の上からさっと羽織ることが出来る
暖かい羽織です。
気楽に着用頂けるよう裏地には帯電しにくい綿生地を使用。
真田紐で前を閉じられる仕様にし、丈も伊達羽織より長くしました。
(腕を動かしやすくするために、袖には裏地を付けておりません)

※ドライクリーニング推奨の為、汚れやすい作業には着用をお勧め致しません。

This warm coat with a lining and a longer length allows you to appear in front of customers without undressing your work clothes. The lining is made of cotton for the antistatic purpose to secure comfort. The front of the coat can be tied with Japanese traditional braids called Sanada Himo. The sleeves have no lining for a wider range of motion.

※Dry cleaning is recommended. Please avoid the situation that may make the clothes dirty.

可以當作出外勤、送貨、會客或是加在工作服上的保暖外衣。
內裡使用不易起電的棉織品,便於穿著。前方可用真田繩繫上,長度也比伊達羽織長。(為了方便手腕活動,袖子沒有縫製內裏)
※建議乾洗,所以不適合容易弄髒衣服的工作時使用

<寸法>
サイズ1
身幅:53cm
肩幅:47cm
着丈:100cm
袖丈:51.5cm

サイズ2
身幅:55cm
肩幅:50cm
着丈:105cm
袖丈:55.5cm

サイズ3
身幅:57cm
肩幅:52cm
着丈:110cm
袖丈:59cm

<素材>
表地:毛100%
裏地:綿100%

<モデル着用>
男性:175cm/サイズ3


Lot 0:2018.7

ラッピングオプションのお知らせ|https://shop.sagyo.jp/blog/2020/12/10/095710
*This item will be delivered on 7/11(Mon) at the earliest.
*Tax included.
*Additional shipping charges may apply, See detail..

About shipping fees
The shipping fee for this item varies by the shipping method. Customers can choose the shipping method at time of purchase.
佐川急便

日時指定がないご注文に関しては、発送業者をこちらで選択させて頂く場合があります。

Shipping Fees are the same all over country inside Japan ¥500
EMS /〜2kg

Regional setting

Afghanistan

Bangladesh

Bhutan

Brunei

Cambodia

China

Guam

Hong Kong

India

Indonesia

Laos

Macao

Malaysia

Maldives

Marshall Islands

Micronesia, Federated States Of

Mongolia

Myanmar

Nepal

North Korea

Northern Mariana Islands

Pakistan

Palau

Philippines

Singapore

South Korea

Sri Lanka

Taiwan

Thailand

Timor Leste

Vietnam

Australia

Christmas Island

Cocos (Keeling) Islands

Cook Islands

Fiji

French Polynesia

Kiribati

Nauru

New Caledonia

New Zealand

Niue

Norfolk Island

Papua New Guinea

Pitcairn

Samoa

Solomon Islands

Tonga

Tuvalu

Vanuatu

Wallis and Futuna

American Samoa

Anguilla

Antigua and Barbuda

Aruba

Bahamas

Barbados

Belize

Bonaire, Sint Eustatius and Saba

Canada

Cayman Islands

Costa Rica

Cuba

Dominica

Dominican Republic

El Salvador

Grenada

Guadeloupe

Guatemala

Haiti

Honduras

Jamaica

Martinique

Mexico

Montserrat

Netherlands Antilles

Nicaragua

Panama

Puerto Rico

Saint Barthélemy

Saint Kitts and Nevis

Saint Lucia

Saint Martin

Saint Pierre and Miquelon

Saint Vincent and the Grenadines

Sint Maarten

Trinidad and Tobago

Turks and Caicos Islands

U.S. Virgin Islands

United States

Virgin Islands, British

Bahrain

Cyprus

Iran, Islamic Republic Of

Iraq

Israel

Jordan

Kuwait

Lebanon

Oman

Palestinian Territory, Occupied

Qatar

Saudi Arabia

Syria

Turkey

United Arab Emirates

Yemen

Aland Islands

Albania

Andorra

Armenia

Austria

Azerbaijan

Belarus

Belgium

Bosnia and Herzegovina

Bulgaria

Croatia

Czech Republic

Denmark

Estonia

Faroe Islands

Finland

France

Georgia

Germany

Gibraltar

Greece

Greenland

Guernsey

Holy See (Vatican City State)

Hungary

Iceland

Ireland

Isle of Man

Italy

Jersey

Kazakhstan

Kosovo

Kyrgyzstan

Latvia

Liechtenstein

Lithuania

Luxembourg

Malta

Moldova

Monaco

Montenegro

Netherlands

North Macedonia

Norway

Poland

Portugal

Romania

Russia

San Marino

Serbia

Slovakia

Slovenia

Spain

Svalbard and Jan Mayen

Sweden

Switzerland

Tajikistan

Turkmenistan

Ukraine

United Kingdom

Uzbekistan

Argentina

Bolivia

Brazil

Chile

Colombia

Curaçao

Ecuador

Falkland Islands (Malvinas)

French Guiana

Guyana

Paraguay

Peru

Suriname

Uruguay

Venezuela

Algeria

Angola

Ascension Island

Benin

Botswana

Burkina Faso

Burundi

Cameroon

Canary Islands

Cape Verde

Central African Republic

Ceuta and Melilla

Chad

Comoros

Congo

Congo, The Democratic Republic Of The

Côte d'Ivoire

Djibouti

Egypt

Equatorial Guinea

Eritrea

Eswatini

Ethiopia

Gabon

Gambia

Ghana

Guinea

Guinea Bissau

Kenya

Lesotho

Liberia

Libya

Madagascar

Malawi

Mali

Mauritania

Mauritius

Mayotte

Morocco

Mozambique

Namibia

Niger

Nigeria

Reunion

Rwanda

Sao Tome and Principe

Senegal

Seychelles

Sierra Leone

Somalia

South Africa

South Sudan

Sudan

Tanzania

Togo

Tristan da Cunha

Tunisia

Uganda

Western Sahara

Zambia

Zimbabwe

Bermuda

Bouvet Island

French Southern Territories

Heard Island and McDonald Islands

Indian Ocean Territory, British

Saint Helena

South Georgia and the South Sandwich Islands

Tokelau

United States Minor Outlying Islands