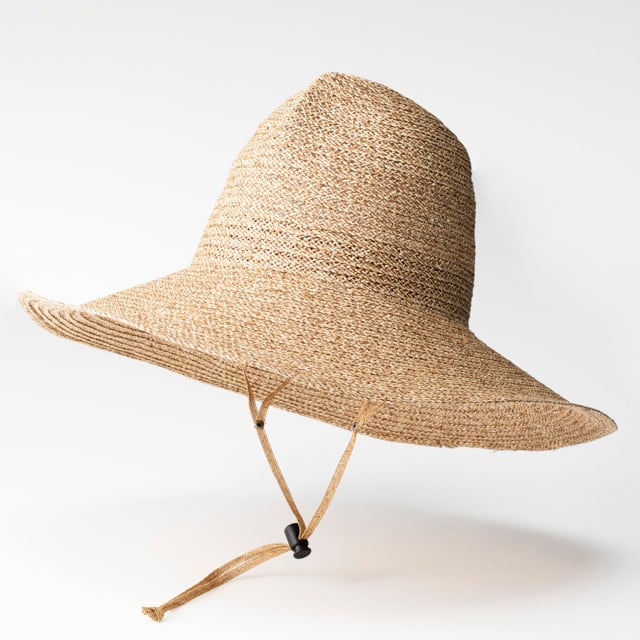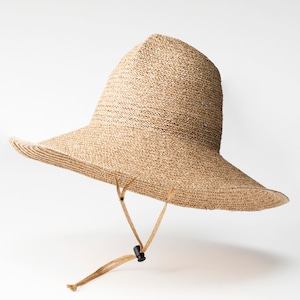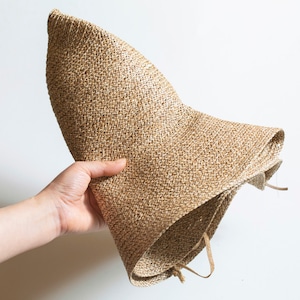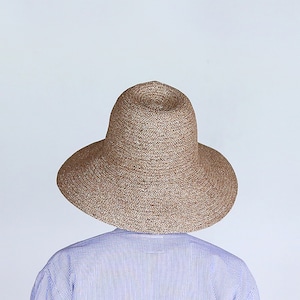 ・太和紙真田 労帽 (ふとわしさなだ ろうぼう)


日差しの強い時期に必須の日よけ労働帽子です。
素材には、耐久性と携帯性に優れている和紙を採用しました。
紙素材のメリットに軽さと通気性の良さがありますが、SAGYOの労帽は一般的な麦わら帽子よりもトップを高くし、更に風の通りを良くしています。
頭のサイズを気にせず着用出来る様、内側にサイズ調節紐を付けました。
帽子を頭に固定するために、笠紐を参照した和紙平紐を縫い付けているのが特徴です。
内側のリボンのみ手洗い可能ですが、出来れば汗止めとして手ぬぐいや作業頭巾と合わせて着用下さい。

<取扱注意>
ブレードにはコーティングをしている為、汗程度では形状変化することはありませんが、原則水に濡れることは厳禁です。
やむなく降雨等で帽子がぬれてしまった場合、形を整えて、陰干しにて時間をかけて乾かしてください。
ドライヤーなどで無理に乾燥させないでください。


・Japanese Traditional Paper Straw Hat for Sunshade
This sun hat is made of durable and compact Japanese traditional paper. Paper has an advantage as material, being lightweight and breathable. Our hat is higher at its top than normal hats to enhance breathability. The size of the hat is adjustable with a string inside. A flat paper ribbon, which referred to that of the Japanese traditional hat, is attached to the sides of the hat. Since only the adjustment string is hand-washable, it is recommended to wear with a sweat towel.

<Note>
The breads of the hat is toughened with coating enough to keep its shape from sweat. However, in principle, please prevent it from being wet. Due to the unavoidable reason it is wet, please reshape it and dry in a shade slowly. Please do not use dryers.


・太和紙真田 工作帽
在日曬強的時期不可或缺的工作帽。
使用的材質是和紙,耐久性佳且便於攜帶。
紙的材質本身就輕巧及通風性佳,且SAGYO的工作帽比起一般的草帽頂部又更高了一些,使得通風性更佳。
帽子內側可調節大小,不需擔心頭部尺寸不合。
為了讓帽子能夠固定,參考了斗笠的綁繩,使用和紙縫製的綁帶為其特徵。
內側的綁帶雖然能夠手洗,還是建議大家能搭配著手拭巾及工作頭巾來止汗。

<使用注意事項>
雖然有做防水塗層,讓汗水不致於使其變形,但原則上嚴禁碰水。
如果帽子因下雨等不可抗力原因弄濕,請調整其形狀並陰乾。
請不要使用吹風機等工具快速使其乾燥。


<サイズ>
男女兼用フリー(頭囲 55-60cm)直径 約45cm

<素材>
本体:指定外繊維(和紙)86%、ポリエステル8%、ポリプロピレン6%
リボン:レーヨン100%

ラッピングオプションのお知らせ|https://shop.sagyo.jp/blog/2020/12/10/095710
*Earliest delivery date is 6/6(Tue) (may require more days depending on delivery address).
*Tax included.
*Additional shipping charges may apply, See detail..

About shipping fees
The shipping fee for this item varies by the shipping method. Customers can choose the shipping method at time of purchase.
佐川急便

日時指定がないご注文に関しては、発送業者をこちらで選択させて頂く場合があります。

Shipping Fees are the same all over country inside Japan ¥500
EMS light /〜1kg

Regional setting

Afghanistan

Bangladesh

Bhutan

Brunei

Cambodia

China

Guam

Hong Kong

India

Indonesia

Laos

Macao

Malaysia

Maldives

Marshall Islands

Micronesia, Federated States Of

Mongolia

Myanmar

Nepal

North Korea

Northern Mariana Islands

Pakistan

Palau

Philippines

Singapore

South Korea

Sri Lanka

Taiwan

Thailand

Timor Leste

Vietnam

Australia

Christmas Island

Cocos (Keeling) Islands

Cook Islands

Fiji

French Polynesia

Kiribati

Nauru

New Caledonia

New Zealand

Niue

Norfolk Island

Papua New Guinea

Pitcairn

Samoa

Solomon Islands

Tonga

Tuvalu

Vanuatu

Wallis and Futuna

American Samoa

Anguilla

Antigua and Barbuda

Aruba

Bahamas

Barbados

Belize

Bonaire, Sint Eustatius and Saba

Canada

Cayman Islands

Costa Rica

Cuba

Dominica

Dominican Republic

El Salvador

Grenada

Guadeloupe

Guatemala

Haiti

Honduras

Jamaica

Martinique

Mexico

Montserrat

Netherlands Antilles

Nicaragua

Panama

Puerto Rico

Saint Barthélemy

Saint Kitts and Nevis

Saint Lucia

Saint Martin

Saint Pierre and Miquelon

Saint Vincent and the Grenadines

Sint Maarten

Trinidad and Tobago

Turks and Caicos Islands

U.S. Virgin Islands

United States

Virgin Islands, British

Bahrain

Cyprus

Iran, Islamic Republic Of

Iraq

Israel

Jordan

Kuwait

Lebanon

Oman

Palestinian Territory, Occupied

Qatar

Saudi Arabia

Syria

Turkey

United Arab Emirates

Yemen

Aland Islands

Albania

Andorra

Armenia

Austria

Azerbaijan

Belarus

Belgium

Bosnia and Herzegovina

Bulgaria

Croatia

Czech Republic

Denmark

Estonia

Faroe Islands

Finland

France

Georgia

Germany

Gibraltar

Greece

Greenland

Guernsey

Holy See (Vatican City State)

Hungary

Iceland

Ireland

Isle of Man

Italy

Jersey

Kazakhstan

Kosovo

Kyrgyzstan

Latvia

Liechtenstein

Lithuania

Luxembourg

Malta

Moldova

Monaco

Montenegro

Netherlands

North Macedonia

Norway

Poland

Portugal

Romania

Russia

San Marino

Serbia

Slovakia

Slovenia

Spain

Svalbard and Jan Mayen

Sweden

Switzerland

Tajikistan

Turkmenistan

Ukraine

United Kingdom

Uzbekistan

Argentina

Bolivia

Brazil

Chile

Colombia

Curaçao

Ecuador

Falkland Islands (Malvinas)

French Guiana

Guyana

Paraguay

Peru

Suriname

Uruguay

Venezuela

Algeria

Angola

Ascension Island

Benin

Botswana

Burkina Faso

Burundi

Cameroon

Canary Islands

Cape Verde

Central African Republic

Ceuta and Melilla

Chad

Comoros

Congo

Congo, The Democratic Republic Of The

Côte d'Ivoire

Djibouti

Egypt

Equatorial Guinea

Eritrea

Eswatini

Ethiopia

Gabon

Gambia

Ghana

Guinea

Guinea Bissau

Kenya

Lesotho

Liberia

Libya

Madagascar

Malawi

Mali

Mauritania

Mauritius

Mayotte

Morocco

Mozambique

Namibia

Niger

Nigeria

Reunion

Rwanda

Sao Tome and Principe

Senegal

Seychelles

Sierra Leone

Somalia

South Africa

South Sudan

Sudan

Tanzania

Togo

Tristan da Cunha

Tunisia

Uganda

Western Sahara

Zambia

Zimbabwe

Bermuda

Bouvet Island

French Southern Territories

Heard Island and McDonald Islands

Indian Ocean Territory, British

Saint Helena

South Georgia and the South Sandwich Islands

Tokelau

United States Minor Outlying Islands